Hemlock's Robotic Team-Gray Matter brings home the Imagery Award from their recent competition held at Kettering University for the second consecutive year. This award celebrates attractiveness in engineering and outstanding visual aesthetic integration of machine and team appearance. This award is created in honor of Jack Kamen, for his dedication to art and illusion and his devotion to FIRST.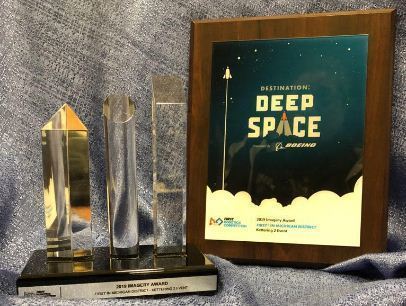 Hemlock competed against some of the best robotics' teams in the world, finishing 3rd place out of 40 teams. One highlight was finishing ahead of the defending world champions.
Robotics Advisor Lockwood stated, "Robotics programs exist to get kids interested in Science, Technology, Engineering, and Mathematics subjects and careers. We've worked hard to provide these opportunities to as many children in our district as possible. From FIRST Robotics, to an Elementary Maker Space, from interactive classroom technology to our 1:1 computer initiative we're committed to giving our students world-class experiences."
Guidelines for receiving the Imagery Award are appearance of machine and team, visuals of the integrated team/machine, the team theme is supportive of the FIRST core values, the team's theme is original, can be explained by a team spokesperson, and is fitting to the objectives, character, and/or history of the team.
Gray Matter provides advanced educational opportunities.