The Culinary Arts class has been busy learning about cooking, baking and presenting delicious foods these past few weeks. As is tradition, each student made a homemade apple pie to share with their families. Students learned to make an amazing lard crust with freshly picked apples from Jacques Apple Orchard, located on Iva Rd, in Hemlock. We thank Jacques Apple Orchard for their continued support of HHS Culinary.
After making her pie, Ally McMillan said, "I loved the crust and could definitely see how the lard and small amount of Crisco determined the pie. It was amazing!" Freshman Sammie Hales commented, "The pie tasted really great and the flavors were very well balanced. The apples were baked perfectly, and the crust was very flaky and buttery." And Malachi Johnston replied, "...it tasted good; the crust was sugary and the filling was warm and flavorful."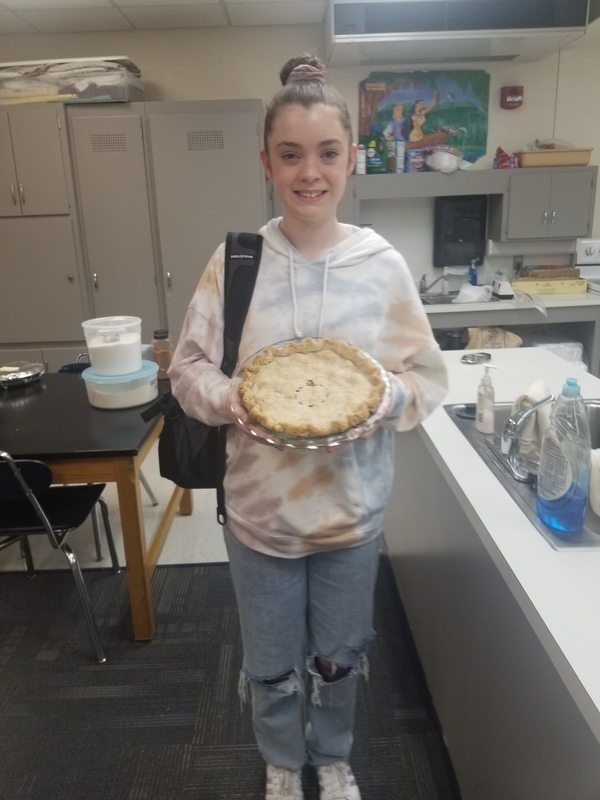 These budding young chefs then enjoyed preparing Halloween treats, soon after. Students learned how to make decorated cupcakes among other goodies. Many chose to be very creative while using all edible ingredients to complete their cupcakes. "I love seeing what they come up with!", stated Mrs. Gerard. "I give them ideas, but allow them to play and create their own masterpieces while frosting their cupcakes. Everyone needs time to have some fun and let their creativity come to life in the kitchen."
Finally, to celebrate Veterans Day, each Culinary student invited a veteran, first-responder, or blue-star family to a candlelight, family-style Thanksgiving Dinner. The class learned and demonstrated how to plan a meal for 40+ guests, and made a fabulous Thanksgiving Dinner with all the trimmings. "We served everything from the roasted turkey and yummy mashed potatoes to pumpkin and chocolate pecan tarts," said Mrs. Gerard. 'My students are so full of energy and enthusiasm. Our guests loved the meal, the ambiance, and their servers. It was a wonderful night!"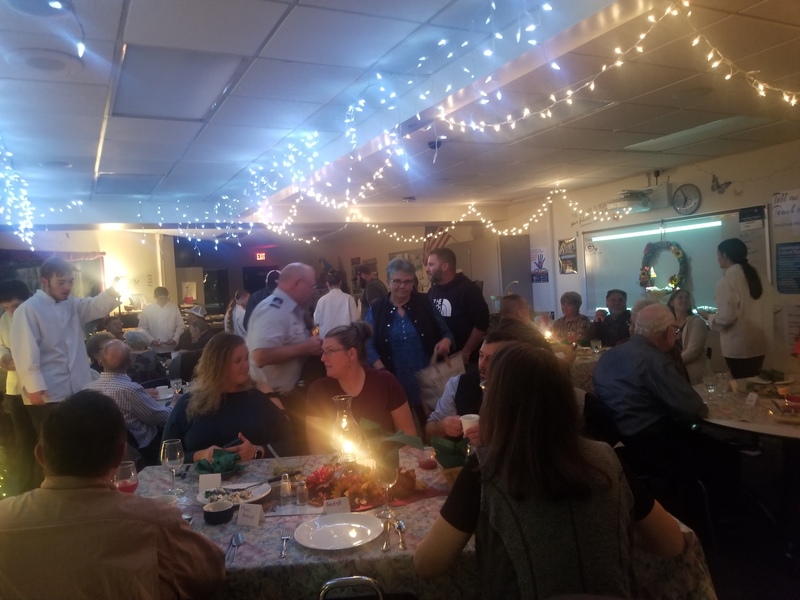 Gloria Paixo, a foreign exchange student, shared that her guests loved the cranberry butter and even wanted the recipe to have it at their own Thanksgiving. "I heard our guests say the food tasted great and we were sophisticated" (while serving), responded Anna Nurnberg. Guests Tom and Carol Jurek said, "The food was delicious and the service was very friendly and professional. You are a very exceptional group of young people."
The Culinary class says,"THANK YOU JACK'S IN SHIELDS! WE SO APPRECIATE YOUR SUPPORTING US AND DONATING SUPPLIES FOR THE VETERANS DINNER!"
The students are now learning to make delicious Christmas favorites.