Teacher of the Year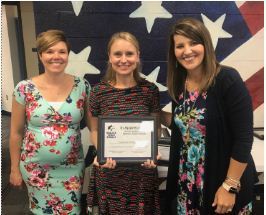 Hemlock Business Association
Hemlock Business Association has selected Stephanie Dunton, as the 2017 Teacher of the Year. Dunton joins an elite group of previous honorees such as Lousie Fleischmann and Dana Lockwood. Her nomination noted that Mrs. Dunton represents herself as an excellent teacher who is hardworking, empathic, passionate, and devoted to her students.
Board President Dr. Katherine Ellison said, "Mrs. Dunton is always going above and beyond--taking the initiative to raise funds for special projects for her class, helping lead elementary level robotics, and much more—she is a true asset to the district and to the children in her classes. This is a very well-deserved honor."
The Hemlock Business Association will be honoring Stephanie Dunton at The Maple Grille during their annual Fall Harvest Dinner on Monday, September 11th from 4-8 p.m. The cost of tickets is $10 and are available at the Rauchholz Memorial Library, First One Credit Union, and the Hemlock Public School District office located at 200 Wilson St. The "Teacher of the Year," and other awards will be presented at approximately 6 p.m.
Superintendent Don Killingbeck noted, "We are fortunate to have such a dynamic and caring individual working at Hemlock Public School District. Stephanie takes that extra step, and it shows."