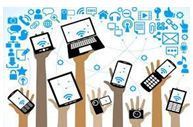 Leaders in Innovation and Educational Technology
D. Killingbeck/Tiffany Green/Kelly Phillion
Tuesday, October 09, 2018
Hemlock Public School District are leaders in educational innovation and technology. The school district makes "new school" feel "old school" as they pave the way with 1:1 technology and anywhere, any time learning. The school district's 1:1 program is now entering a fourth school year. What was borderline revolutionary at the time is now seen as a common standard and expectation throughout the school district.
3rd Grade Teacher Tiffany Green said, "Technology has provided a transformation in the classroom for my students to learn 21st-century skills that reach beyond the classroom itself. It also provides limitless opportunities for differentiated instruction to challenge all students."
Hemlock Public School District continues to be committed to preparing students for the world that they will work and live. Over the last few years, the district continues to make improvements, with a focus on STEM and hands-on learning. Expanding opportunities for students with K-12 robotics, increased electives, and specials.
Superintendent Killingbeck said, "Hemlock Public School District strives to provide learning opportunities and environment to best prepare students." He went on to say, "We still have room to improve and grow, but we continue to build capacity."
Technology Director Tom Lockwood said, "We have an enthusiastic staff who developed instructional practices using Chromebooks and Google Apps. We have been a leader in implementing technology delivery systems that will engagingly reach every child. For the high school students, these devices form a framework for a 24/7 learning environment, delivering on the promise of any time, any place learning."
Killingbeck, who in addition to advanced degrees in leadership holds a Master's degree in Educational Technology and Instructional Design from Michigan State University, is the first to say, "Technology is not a solution for all. The most successful students will have the technical skills of their peers and the good graces of their grandparents, being able to look people in the eyes, shake hands, and carry on a conversation."
Hemlock Public School District is committed to preparing our students for their future.