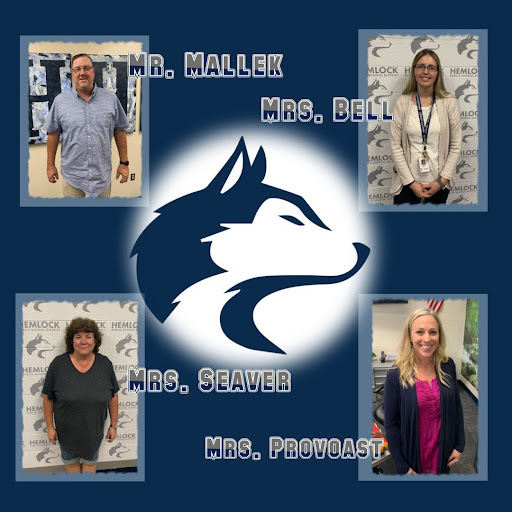 New Faculty & Staff Members Pull the Sled
Morgan Jensen
Friday, September 10, 2021
Holly Bell – Holly is new to the high school, but not new to Hemlock Public Schools. She arrives at the high school after an extensive tenure at Ling Elementary and brings along her expertise in special education.
Gena Provoast – Gena is a new special education teacher at Hemlock High School. After a few years away from teaching, she returns to the place she once called home as a Hemlock High School graduate. Gena is a welcomed addition and is enthusiastic to begin her tenure in Hemlock.
Greg Mallek – Greg arrives at Hemlock Public School as our College/Career Advisor. Greg brings a wealth of public school and post-secondary experience to the high school. Greg is a natural fit for the position, as he is a long time Hemlock resident with a vested interest in servicing his community.
Tammy Seaver – Tammy is a new addition to the Hemlock High School's custodial team. She is excited to be a Huskie and is a valuable asset to keep our facilities in order to continue providing a high level of education to students.
Mr. Green says, "I am so proud of the new additions we made to the staff this school year. We have found great people that want to join our team. Being amid a worker shortage, we are so blessed to have added these quality employees to our staff."
For more information about this or other positive happenings at Hemlock Public School District please call (989) 642-5282.