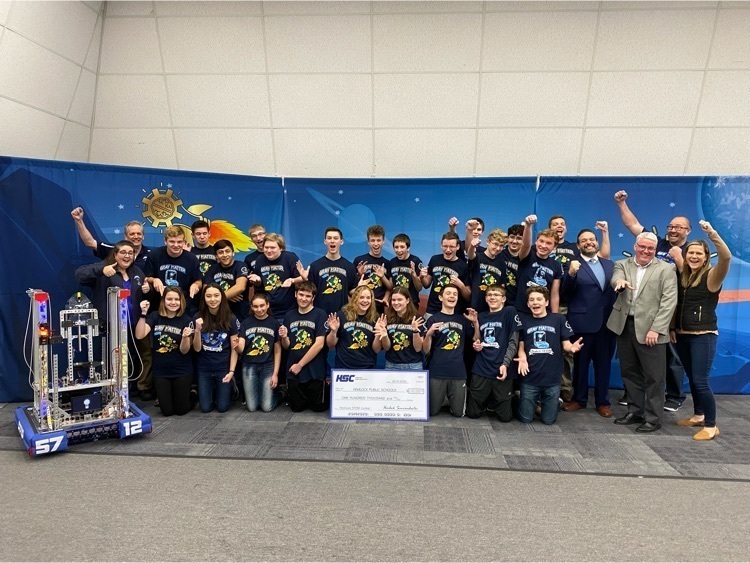 STEM Center Grand Opening
District
Wednesday, June 02, 2021
HEMLOCK, Mich. ― The Lockwood STEM Center's grand opening is to take place June 7, 2021, along with tours of the new home for robotics and other STEM-related programs for Merrill, Swan Valley, St. Charles, Freeland, and Hemlock school districts.
The new 60' x 80' facility, funded through a commitment of more than $100,000 from Hemlock Semiconductor Operations (HSC) as well as other donors, will provide opportunities for kindergarten through high school students to have a new, high-tech location for Science, Technology, Engineering and Math (STEM) learning. It also will be home to FIRST Robotics teams and serve as an advanced learning space for STEM-related programs.
Students, business leaders, donors, and many others got to see the new facility, which was built near Hemlock High School.
"Our area students now have the space, materials, and programs they need to fuel continued STEM learning in and beyond school," Hemlock Public School District Superintendent Don Killingbeck said. "It's wonderful having the equipment and a place to jump-start their careers, thanks to our partnership with HSC. The Lockwood STEM Center is the physical representation of the district's commitment to innovate, collaborate, and educate our community of learners. This space is bold and innovative, dedicated to educating the next generation, and could not have happened without strong collaboration and partnerships from supporters like HSC and many others."
Students using the center get the opportunity to learn STEM education skills such as coding, computer-aided design, 3D printing, and fabrication. The center brings a new avenue to students interested in skilled trades and engineering.
Board President Wesener shared, "We are so excited to announce the grand opening of the Lockwood STEM center. Thanks to the generous donations and great partnerships with organizations like HSC, we have been able to create a transformational space for area students to collaborate and grow in the STEM arena. I would also like to recognize the efforts of Tom Lockwood and the many others there who have contributed to realizing this vision."
"The STEM Center provides a centralized location for FIRST Robotics teams to build and test robots, a great avenue for area students to develop a passion for STEM-related learning," said HSC Vice President of Manufacturing Andy Ault. "Our HSC team looks forward to seeing teams collaborate in this space and watching students develop the skills required to be the next-generation leaders at HSC and in the Great Lakes Bay region."
Along with the $100,000 funding for the center, HSC also matched up to $25,000 in additional funds to encourage other businesses and residents to support the full outfitting of the center's tools and safety features. Other top donors included Hemlock Public Schools, The Rollin M. Gerstacker Foundation, Saginaw Control & Engineering, and DuPont. Additional donors can be found on the Hemlock Area STEM Center website.
The STEM center is named for Tom Lockwood, technology director for Hemlock Public School District and a driving force behind getting the center built on space donated by Hemlock Public School District. It's about 15 miles west of downtown Saginaw and 5 miles west of HSC. The centralized location will offer easy access and availability for all school districts. More information about the center can be found here.
About Hemlock Semiconductor
Hemlock Semiconductor Operations (HSC) is a leading provider of hyper-pure polycrystalline silicon and other silicon-based products used in the manufacture of semiconductor devices, solar cells and modules. At HSC, we're passionate about silicon-based technology and its unique potential to connect and energize the world we share. HSC's polysilicon enables customers to produce high-tech electronics and solar energy, and our efficient manufacturing process delivers products with an ultra-low-carbon footprint. HSC began operations in 1961.
More information can be found at:
hscpoly.com | @hscpoly | LinkedIn | Facebook | YouTube
About Hemlock Public School District
For more information about this or other positive happenings in the Hemlock Public School District, visit us on the web at www.hemlockps.com. Please feel free to contact Technology Director Tom Lockwood, or Superintendent Don Killingbeck at (989) 642-5282 to learn more.
About Lockwood STEM Center
The Lockwood STEM Center will serve as a regional catalyst to inspire Science, Technology, Engineering and Math (STEM) exploration by kindergarten-to-high school students from schools in the Great Lakes Bay Region. Students will gain 21st-century employment skills such as coding, Computer-Aided Design, how to use Electronics Control Systems, fabrication using traditional techniques like milling machines and emerging technologies like CNC and 3D printing. Also, soft skills like communications and strategic planning are emphasized. The center will be the home of Hemlock's elementary robotics teams. The STEM Center will be located on the property of Hemlock Public School District next to the industrial arts wing.
Click here for more information.