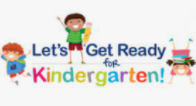 Have you Enrolled for 2021-22 Young 5 or Kindergarten?
District
Friday, May 21, 2021
It is TIME!
Please submit your online enrollment today to secure a spot for the next school year and to sign up for testing for teacher placements.
Online Enrollment Open NOW! Enroll for 2021-22 today! Click Here.
Kindergarten Placement Testing-Click Here.
If you are having trouble submitting your child's online enrollment please call the Elementary Office at 989-642-5221.