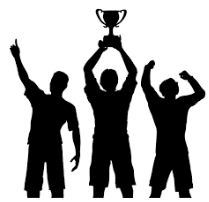 Hemlock Finishes Winter Sports Season with Victorious Moments
George Herrington/Kelly Phillion
Wednesday, April 04, 2018
Hemlock High School finished up the winter sports season with many victorious moments.
The girls' and boys' varsity basketball teams both had a successful season and won district finals. The girls also earned the Tri-Valley West Championship title. Boys' Varsity, Nolan Finkbeiner, and Girls' Varsity, Natalie Hoffman, were selected the Saginaw News All-Area First Team, and Honorable Mention All-State. Girls' Varsity, Sydney Peake, was also selected Honorable Mention All-State. Girl's Coach, Joe Rodriguez, was selected Honorable Mention for Coach of the Year, and All-Area Coach of the Year-Class C and D.
Hemlock's Pompon Team took on a first-place victory at Michigan State Breslin Center, (the first time in Hemlock Public School's history.) The middle school team was runner-up at the state finals.
Senior wrestlers, Emiliano Flores and Ethan McGregor, were both crowned Saginaw County Champions, at the Saginaw County Meet. Both surpassed the 100 Career Victory Plateau. Emiliano also finished 2nd at the Tri-Valley Conference League Meet.
Senior, Zachary Smith, qualified for state finals in boys' singles bowling, Division 3 at Northway Lanes in Muskegon.
Our Tri-Valley Titan's Hockey Team advanced to the Regional Championship at Midland Civic Arena.
Powerlifter, Alexus Knapik, won the Regional Championship, gathered All-State Honors with a 3rd place finish overall in her division. She also set a state record in her weight class with a squat of 215 lbs.
Athletic Director Herrington shared, "It certainly has been exciting to have our athletes and coaches experience so much success during this past winter season. A lot of extra time, effort, commitment, and dedication are required and, we should be very proud of their accomplishments."
Principal Green said, "Hemlock is very fortunate to offer such a wide range of sport and academic activities. There is truly something for everyone. We couldn't be more proud of how our students balance it all!"