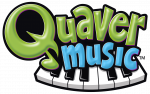 Making Music
District
Monday, February 01, 2021
Hemlock Public School District recently purchased the online music curriculum QuaverMusic. This curriculum will be used primarily in the elementary grades. QuaverMusic is a world leader in online curriculum development for Pre-K to 8th grade. In today's digital world, this curriculum provides interactive content that is optimized for in-person, hybrid, or fully remote learning.
"This is just another example of how Hemlock Public School District is working to ensure that our students have the best educational experience possible," said Superintendent Don Killingbeck.
The QuaverMusic curriculum resources encompass all music teaching pedagogies. It allows educators to make optimal use of technology in the classroom to reach 21st-century students as they learn in a digital age and revolutionizes music education in today's classroom through fun and engaging activities.
Principal Lori Gensch said, "We are excited to offer QuaverMusic to our students and teachers. QuaverMusic is an interactive program that captures students' interests and allows teachers to construct lesson plans that align with the National Standards. This curriculum is on the cutting edge of what teachers and students need from a successful music education program."
For more information about QuaverMusic or other positive happenings, contact Hemlock Public School District at (989) 642-5282 or visit us on the web at hemlockps.com.