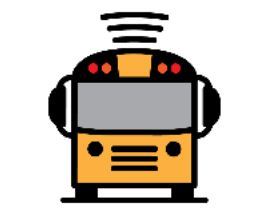 Here Comes the Bus!
Carolyn Donoghue/Kelly Phillion
Thursday, February 08, 2018
Hemlock Public School District Board of Education is excited to announce a new feature available to parents of students riding the bus to and from school. Here Comes the Bus is an alert system that will notify parents or students when the bus is near their pickup or drop off.
Superintendent Don Killingbeck said, "This is one of the ways Hemlock Public School District is providing safe and effective services to students and parents."
Here Comes the Bus will provide parents with ease of mind with these features:
• View the real-time location of your child's bus
• Access the app from your smartphone, tablet or computer
• Receive push notifications or email alerts
• Send your child to the bus stop at just the right time, every time
Parents can view our website at http://www.hemlockps.com/o/district/page/transportation--74 to get information to download this feature and step by step directions at https://herecomesthebus.com/getting-started/. The app is available at the App Store or Google Play.
Transportation Coordinator Donoghue said, "I am so thrilled about this new feature for the safety of the students, parents, and bus drivers. I really hope parents will take advantage of this amazing technology!"
Here Comes the Bus is a registered trademark of Synovia Solutions, LLC