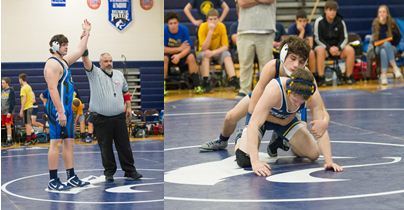 Saginaw County Wrestling Champs
George Herrington/Kelly Phillion
Monday, February 05, 2018
Hemlock High School senior wrestlers, Emiliano Flores and Ethan McGregor, were both recently crowned Saginaw County Champions, at the January 13, 2018, Saginaw County Meet. Emiliano brought home the County Championship the past two years, and this is Ethan's first victory after finishing runner-up last year. Emiliano has over 100 career victories, and Ethan should reach that milestone during the upcoming Tri Valley Conference League Meet.
Coach Dwenger has high praise for his senior leaders, "Emiliano and Ethan have been great team leaders and have both shown tremendous improvement throughout their careers." He added, "Emiliano and Ethan have worked extremely hard to maximize their potential. We are very proud of their accomplishments."
Emiliano is the son of Ann and Albert Flores of Hemlock, and Ethan is the son of Jennifer and Scott McGregor.