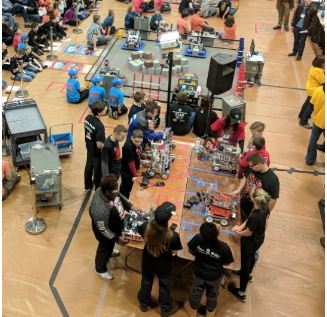 Hemlock Robotics Teams Receives State Grants
Tom Lockwood/Kelly Phillion
Wednesday, January 17, 2018
Hemlock Public School District has received grants totaling $5,950 from the State of Michigan to help fund the district's FIRST robotics programs.
FIRST is an international educational organization focusing on the development and implementation of science and technology in schools.
While the state grant is welcome, the robotics programs have to look for outside funding to maintain and continue growth. "The state funding is very helpful," notes Tom Lockwood, Hemlock's robotics mentor, "but the amounts become less and less every year. In our first season, our high school team was awarded a grant of $9,500, we've seen that amount reduced to $2,500. We truly need to rely on obtaining grants and developing relationships with local businesses to help support these educational programs."
Hemlock Public School District now has four FIRST Lego League Junior teams serving students K-3, two FIRST Lego League teams for students in grades 4-6, two FIRST Tech Challenge teams for students in grades 7-8 and a FIRST Robotics Competition team for high school students. That's 100 students served by over 30 adult mentors.
Hemlock's Superintendent Don Killingbeck states, "It's great to see the robotics programs grow as the students have an opportunity to gain important hands-on experiences. Strategic thinking, coding, machining, safety and even entrepreneurship are all part of the program."