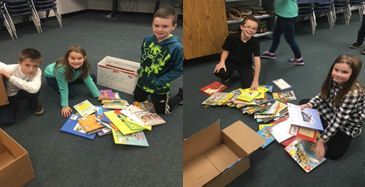 Hemlock Huskies Spreading Holiday Cheer
Lori Gensch/Kelly Phillion
Wednesday, January 03, 2018
The holidays are a time of giving and nowhere was it more apparent than in the hearts of our littlest Huskies. Throughout the month of December, Hemlock Elementary & K.C. Ling Elementary students participated in a Pay It Forward Book Drive and a Holiday Food Drive to help those less fortunate during the holiday season.
As part of the Pay It Forward Project, students brought in new and gently used books to donate to needy children in our county. The books collected were then given out at a community holiday party. Throughout the book drive, students collected more than 3,100 books.
Students also participated in a three-week Holiday Food Drive, ending just before the break. Students were asked to bring in non-perishable food items that were donated to local churches and food pantries to be distributed in time for the holidays.
Principal Gensch said, "We were overwhelmed by the generosity of our students throughout the Pay It Forward Project and Holiday Food Drive. The amount of excitement that was generated by helping others in need was contagious. This was just another reminder of what caring and compassionate students and families we have here at Hemlock."