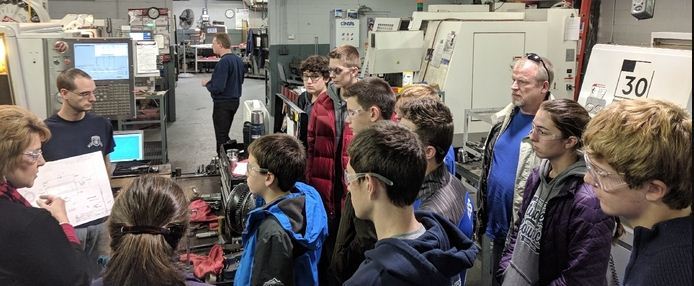 Hemlock's Robotic Team Visits Kurek Tool
Kelly Phillion/Dana Lockwood
Tuesday, December 19, 2017
Hemlock High School Robotics team visits Kurek Tool on a recent field trip. Students learned about CNC machining with a HAAS Machine Center.
Kurek Tool, Inc. is a woman-owned business specializing in the precision manufacturing of tool, fixtures, prototypes and similar engineered products. This field trip was an excellent opportunity for students to captivate the use of machines in working motion.
Robotics leader Dana Lockwood stated, "I have known JoAnn Kurek for years. She has always been a great supporter of Hemlock Public Schools. More recently, she has enjoyed supporting our robotics team. This was a great field trip! It was fun to see the students so excited."
Superintendent Killingbeck noted, "We are very appreciative to Kurek Tool and all our business partners that work with us through the year to help provide students insight into the work world."