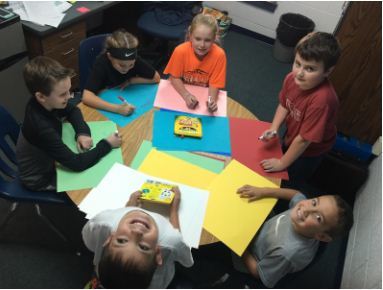 K.C. Ling Elementary Student Leaders Pay It Forward
Lori Gensch/Kelly Phillion
Monday, November 20, 2017
K.C. Ling Elementary students had the opportunity to become leaders of the Huskie Pack by running for our newly formed student council. Elections were held in each of the 3rd and 4th-grade classrooms to choose two representatives. Students interested in running for these positions had to prepare a speech outlining why they would be good representatives and what they would try to accomplish if they were elected. The candidates then presented their ideas to their peers prior to the elections being held.
Since the election, student council representatives have been meeting on a monthly basis to plan school spirit activities/assemblies, help promote fundraisers and projects throughout the elementary buildings, and share classmates' ideas. Their next task will be to help facilitate a Pay It Forward project in which they will be collecting new or gently used books to give to needy students in Saginaw County.
School Social Worker and Student Council Advisor, Erica VanAlst states, "We are excited to give students an opportunity to build leadership skills at an early age. It will allow students to see first-hand that their actions can make a difference in their life and the lives of others."
According to Principal Lori Gensch, "When we decided to implement student council at the elementary level, it was our intention to give students a voice in the educational process. We wanted students to have an avenue for sharing ideas, interests, and concerns with school staff; the Pay It Forward project is a great way of doing just that."
Gently used or new books can be dropped off at Hemlock or K.C. Ling Elementary Buildings.