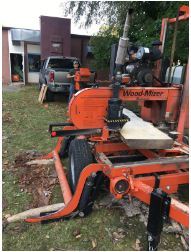 Hemlock Community Works Together to Benefit Wood Shop Students
Keith Green/Kelly Phillion
Tuesday, October 17, 2017
Owner of, Story of the Trees Sawmill and Hemlock Alumni, Paul Thornton, donated his time, talent, and materials sawing logs into usable lumber for Hemlock's wood shop program. Students were able to see the process of turning trees into lumber. They assisted in stacking the wood properly for the drying process to begin. The logs, which were mainly pine, and one large maple were grown on Geddes Road at Harry Claus and Marvin Harms adjoining properties. Once the lumber is adequately dried, the students will be able to use the wood for their future projects.
Principal Keith Green said, "This was an excellent opportunity for Hemlock students to experience. Thank you to our community members that offered their time, equipment, materials, trees, and talents."
"It is important to have our students learn real-world, hands-on experiences. Students need to be ready to work with their hands to meet the demand and shortage of workers in the professional trades," said Heath Marietta, Hemlock Industrial Arts Teacher.