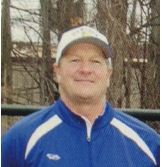 Hemlock Honors Larry Graf
George Herrington/Keith Green/Don Killingbeck
Monday, October 02, 2017
The Hemlock Sports Boosters has selected former varsity softball coach Larry Graf to be honored with the Mulvaney Volunteer Award.
Principal Keith Green noted, "Larry is the epitome of Hemlock. Larry loves the Huskies and has dedicated his free time for the past forty plus years to make Hemlock a better place."
Athletic Director George Herrington added, "Larry has been an outstanding coach, volunteer, and community leader for many years and he continues to give back with his support and dedication to Hemlock."
The Mulvaney Volunteer Award is annually given out by the Sports Boosters to an individual that has given many years of dedicated volunteer service. The award is named after John Mulvaney, who has served the school and community as a volunteer for forty plus years.
Superintendent Don Killingbeck said, "Whether it is in the announcing booth for Friday night football games, helping out with softball, or farming a 30-acre parcel with proceeds going to athletics you know Larry Graf is going to be doing something positive. He continually supports the school, the community, and making sure that kids are first!"
The ceremony will take place at halftime of the home varsity football game October 20th, at Wallace Field. We would invite you to join us and celebrate Larry Graf.