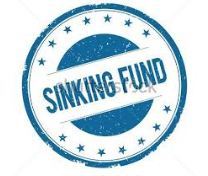 Sinking Fund
Don Killingbeck/Kelly Phillion
Monday, September 18, 2017
What is a sinking fund? It sounds like a funny name for something that is used to help a school district maintain and enhance facilities and technology. Under Michigan law, a school may collect taxes for a "sinking fund" that can be used for repairs, renovations, and technology (as well as other construction).
Superintendent Don Killingbeck said, "The ballot proposal is important to the future of Hemlock Public School District. Please take a few moments to look over this information."
How will this impact Hemlock Public School District? If approved, these funds will help the district maintain our facilities inside and out with things like:
Safety, e.g., service drive to K.C. Ling, additional security cameras, etc.
Efficiency, replaces the single pane windows from 1959 at the high school, lighting, and more).
Curriculum, develop/enhance Science, Technology, Engineering, Arts, and Mathematics (STEAM) areas.
Technology, maintaining and improving infrastructure and systems.
21st Century Media Center/Library at our high school.
Fitness Area, provide students with an updated fitness area like those found in Frankenmuth, St. Charles, and other area schools.
Maintenance, with items like - roofs, boilers, HVAC, equipment, etc.
If approved, it will cost the average homeowner with a $150k home ($75k SEV) $112.50 annually or less than $10 a month. This will generate approximately $500k toward maintaining and improving the school district's facilities and curriculum.
We are hosting five public meetings to help people get information about the November 7th ballot proposal. Every meeting will run for approximately 25 minutes and will be followed by an optional tour of the facility the meeting is being held at:
Hemlock Elementary on Wednesday, September 27th at 7 PM
K.C. Ling Elementary on Friday, September 29th at 8 AM
Hemlock Middle School on Monday, October 2nd at 1 PM
Hemlock High School on Wednesday, October 4th at 7 PM
Hemlock High School on *Friday, October 6th at 8 AM *South entrance
Hemlock Board of Education Vice President Matt Wesener said, " I am really excited that we are bringing this sinking fund proposal to the community. We have several big-ticket maintenance items that are past their life expectancy that if not covered under the sinking fund could very negatively impact the general fund and the operation of our district. At Hemlock our mission is kids first, and we have a great opportunity to provide some additional safety measures as well as increase innovative educational experiences by offering very relevant STEM opportunities. We need to work closely with the community to ensure the success of our children."