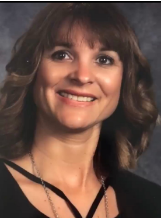 Staff Recognition Highlight
Lori Gensch/Kelly Phillion
Wednesday, January 29, 2020
Lori Gensch has nominated Stacey Langworthy for the Staff Recognition Highlight this week.
Mrs. Langworthy is in her 18th year of teaching with Hemlock Public Schools. She is currently a 2nd-grade teacher at K.C. Ling Elementary.
"Stacey is an outstanding teacher. She continuously aims to help students harness their strengths and overcome their weaknesses by tailoring her instruction to their individual learning needs," shared K.C. Ling Elementary Principal Lori Gensch.
Stacey is married to her husband, Timothy. They have five children, Madison, McKenna, Noah, Katlynn, and Aiden. In her spare time, she enjoys reading, traveling, spending time with family, and putting puzzles together.
When asked what makes her the proudest as a teacher, Stacey stated, "I am the proudest of my students when they are able to show empathy for others."
Thank you, Mrs. Langworthy, for all your hard work and dedication to the success of the students at K.C. Ling Elementary!