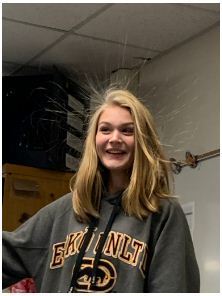 Science is Electrifying
Keith Green/Chad Ludwig/Kelly Phillion
Tuesday, December 10, 2019
Hemlock Public School District's high school physics class had the experience of learning the conductive properties of electricity. This experiment was taken place via the Van de Graaff generator. The students completed experiments on the conductive chain of electricity and how it affects human beings.
The students also learned about the power of static electricity using balloons, and the negative charge that they had against one another, and their attraction to a positive charge. The students were able to follow the scientific method of observation, measurement, formulation, testing, and modification of their hypothesis.
"STEM education is alive and well in our core education. When students are able to experience science hands-on their learning is multiplied. We incorporate hands-on experiments across our science curriculum," stated science teacher Chad Ludwig.